CELEBRATE in Worship
Worship every Sunday at 10:30 AM in the Church House
"Where two or three are gathered in my name there I am in the midst of them…"Church House is a welcoming, truly diverse community of people who pray, serve, work in the name and in the way of Jesus. We enjoy tea and biscotti every Sunday after worship. Communion is served on the first Sunday of each month.Church House is located in the heart of the Inner Richmond:
4319 Geary Blvd.
San Francisco, CA 94118We gather for worship in the Church House, keeping a small footprint, as we discern our vision of developing housing, worship, and community space. We hope to return to the Sanctuary for music and worship by Christmas 2023.
---
CONNECT in COMMUNITY
Garden Community every Tuesday from 12-2 PM
Tend and care for the earth, for our owl neighbors, our Labyrinth, by showing up on Tuesdays, from 12-2pm for Park Presidio's Garden Community.
---
Project Homeless Connect every Third Friday from 9AM-2PM
Project Homeless Connect provides services in front of the church monthly, including:
Problem Solving Support

Information on Community Resources

DMV No-Fee ID Vouchers

Haircut Vouchers

Hygiene Kits

Socks and Underwear

Sleeping Bags and Blankets
---
More Ways to Serve
Volunteer to make a difference in the community. Our neighborhood partners include:
---
Upcoming Events
About Park Presidio
Who We Are
In 1847, before San Francisco was called San Francisco, and before California was a state of the union, six people met in a living room to form the beginnings of what would become the First Methodist Episcopal Church of Yerba Buena.First Church was built, moved, rebuilt, and later joined with St. Johns Church, even as Asbury Church built this house and the church building next door in 1927, and joined with Park Presidio Community Church. In 2001, streams of faithful witness came together here.For over 176 years God's Justice love for immigrants, artists, children, people with HIV/Aids, people experiencing hunger or homelessness, has lived through this church.In 2023, we begin again. With deep roots, the power of the Holy Spirit, and bold vision, we are called to redevelop this community and this property creating a center for God's justice love on Geary and 7th: with affordable housing, worship, arts, community, education and formation.As we grow into this vision, we will grow.Welcome to God's re-creation.
Welcome to worship.Park Presidio UMC, as part of the worldwide United Methodist Church, seeks to transform the world as followers of Jesus Christ, by sharing God's love both in word and how we serve our neighbors. As part of the Reconciling Ministries Network, Park Presidio UMC celebrates, welcomes, affirms, and commits ourselves to live in every dimension of our life together in the name and in the way of Jesus.
---
Pastoral Staff
The Reverend Odette Lockwood-Stewart grew up in Connecticut and California, receiving her Master of Divinity at Boston University School of Theology, Summa Cum Laude. Ordained Elder in the United Methodist Church in 1977, she has given leadership at international, national, regional, and local levels of the Church and ecumenical associations.
She served as Pastor of congregations in Berkeley, San Leandro, and Santa Fe Springs, California, and as University Pastor at UCLA, University of California, Berkeley, San Diego State University, and University of California, San Francisco. Most recently, she served as Interim Senior Pastor of the American Church in Paris, France. She retired in 2017 from her position at the Pacific School of Religion, as Faculty Director of Community-Engaged Learning.God's radical inclusive love and just community are central to her calling.Pastor Odette accepted with joy the invitation and appointment to return to pastoral ministry to revitalize Park Presidio in 2023:
"Our vision of affordable housing, a center for worship, arts, and Just Love community at Geary and 7the Avenue is made plain in the name and in the way of Jesus."Odette is married to Jim Lockwood-Stewart. They have four grown children and eight wonderful grandchildren. For re-creation, Pastor Odette enjoys reading, writing, cinema, theater, studying French and Spanish, conversations over coffee, and living and walking in cities.
Vision and Values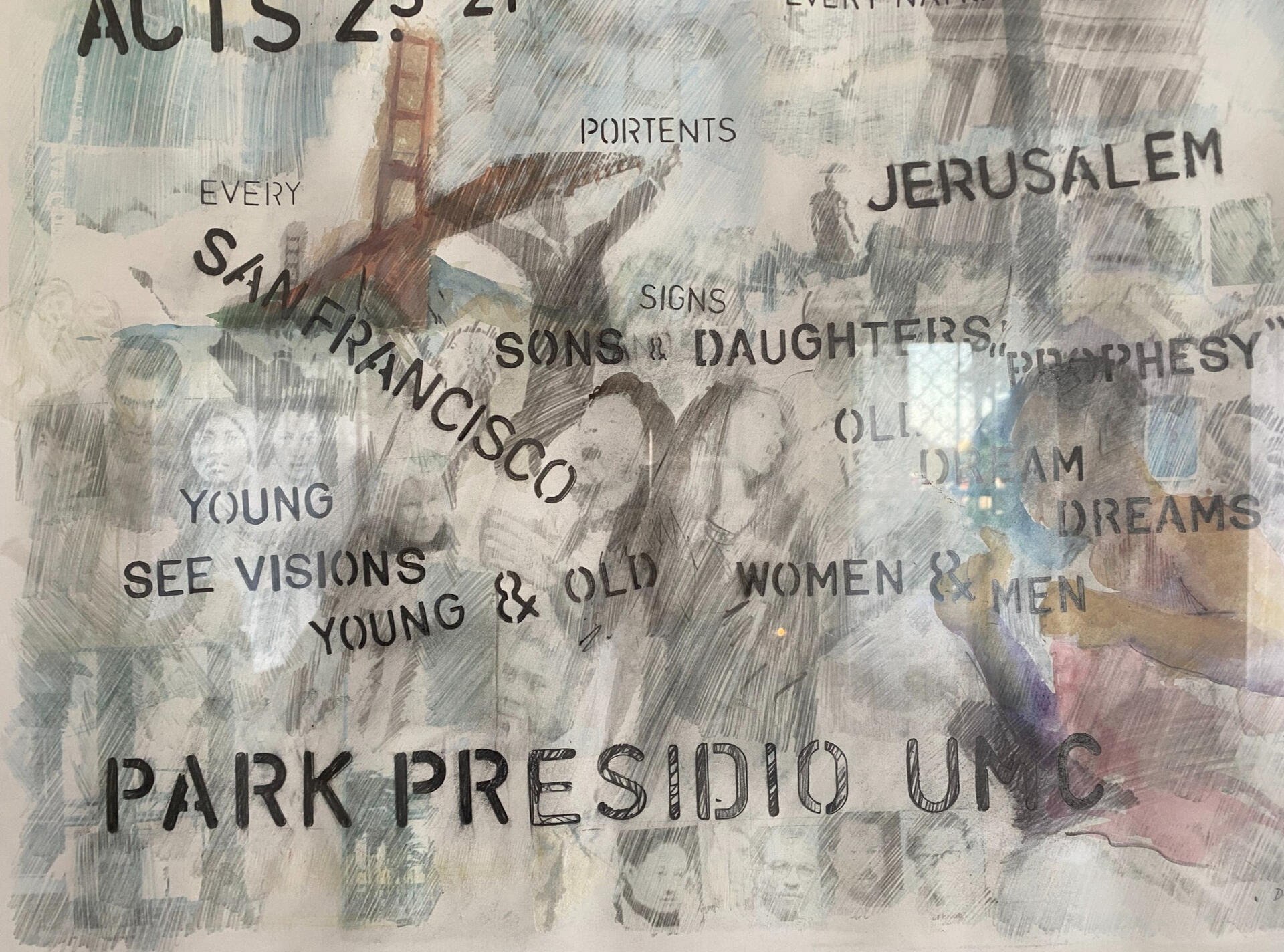 Our Vision
In 2023, Park Presidio UMC and the Bay District of the United Methodist Church cast a bold vision for housing, just community space, and a worship and arts center at the corner of Geary Blvd. and 7th Avenue. We are starting with a feasibility study, community needs study, walking the talk, relationship building, and prayer and discernment. We are redeveloping community and creating new spaces for God's grace in the Inner Richmond.We need you to make plain the vision!
Our Values
We celebrate God's gift of diversity and value the wholeness made possible in community equally shared and shepherded by all. We welcome and affirm people of every gender identity, gender expression, and sexual orientation, who are also of every age, race, ethnicity, physical and mental ability, level of education, and family structure, and of every economic, immigration, marital, and social status, and so much more. We acknowledge that we live in a world of profound social, economic, and political inequities. As followers of Jesus, we commit ourselves to the pursuit of justice and pledge to stand in solidarity with all who are marginalized and oppressed.Park Presidio United Methodist Church seeks to follow Jesus by celebrating, welcoming, affirming, committing ourselves to live in every dimension of our life together in the name and in the way of Jesus.
---
Contact Us
Welcome to Park Presidio in formation! We want to connect with you.
Thank you for your interest, we look forward to getting to know you.
Donate
WAYS TO GIVE
Whatever size of donation, you can give a one-time gift or a monthly sustaining gift to support Park Presidio United Methodist Church in this exciting season of revitalizing community and redevelopment of property for affordable housing, worship, arts, and just community center.
Donate online through PayPal here:
Or, you can mail a check made payable to "Park Presidio United Methodist Church" to 4301 Geary Blvd. San Francisco, CA 94118
Park Presidio United Methodist Church (EIN: 94-6036973) is recognized as a religious organization exempt from federal income tax under Section 501(c)(3) of the Internal Revenue Code. Your contribution may qualify as a deductible charitable contribution for federal income tax purposes. Please consult your tax advisor.